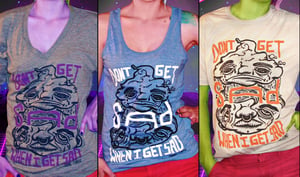 $

15.00
Don't Get Sad When I Get Sad. It's great advice and also a great song lyric. It's deliciously attractive attire for those who have been sad at least once.
This design comes in three styles:
Tan Crew Neck
Heather Grey V-Neck
Baby Blue Tank Top
All three styles are top of the line T-Shirts. That's why they're so fucking expensive. You're gonna like the way you look. We guarantee it.